Spa Hotels in South Devon

The Voyage Spa


Besides taking in the fresh sea air and sweeping views, another wonderful way to relax at Thurlestone is to book some time at the spa. Offering complete calmness and a range of superb health and beauty treatments, we have one of the best spas in South Devon, perfectly situated in the beautiful South Hams near Kingsbridge and Salcombe.
The Voyage Spa combines top class modern facilities with a touch of classic nostalgia from the golden age of ocean travel. With three fine beauty therapy rooms offer soothing treatments, indoor pool, sauna, steam room, laconium, hydrotherapy pool and a fitness suite the Voyage Spa is the perfect place to relax for residents and non-residents alike.


For all enquiries and bookings, just call 01548 560382 or email enquiries@thurlestone.co.uk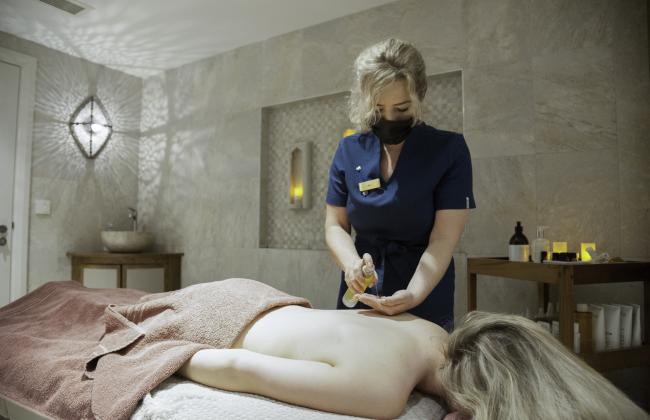 Superb Spa Treatments


From a touch of body therapy to sheer relaxation, our expert practitioners have treatments to soothe your cares away and restore you to your best. Our range of massages and specialist products give you better value and more choice than ever, whether you stop for some quick TLC or indulge in a whole day spa package.


For more than 40 years, DECLÉOR continues to lead with its visionary approach to beauty, as the trusted expert and innovator in aromatherapy skincare.
Combining nature's purest and most potent active ingredients, DECLÉOR scientifically selects and masterfully blends premium Essential Oils to deliver for each skin need, targeted and proven skincare solutions. Understanding that beauty and well-being are intrinsically linked, DECLÉOR offers a unique sensorial experience that visibly enhances the skin's natural health and radiance.
Trusted by the world's best beauty professionals, DECLÉOR offers specialist products and exclusive massage techniques and treatments to deliver the ultimate in skincare results and professional care.
VOYA Organic Beauty was inspired by a 300 old tradition of seaweed bathing, a voyage of discovery and skincare innovation has taken place over the last ten years.
Sustainable hand harvested organic seaweed therapies. Ideal for sensitive, inflamed skin, rheumatic conditions and those who love the sea.
Not only are we offering a wonderful range of Voya treatment but we will also have some of their fantastic products in store.
Inspired by the restorative powers of the sea and the long-standing traditions of the area; Voya choose organic-based and sustainable ways of creating products. Voya's spa products feed and nourish the skin, they are rigorous in the creation these marine based formulations.
Golf Breaks at Thurlestone
Bespoke golf weekends at Thurlestone to include a round of golf at Thurlestone Golf Course, Bigbury Golf Course and on our very own 9 hole par 3 course.
Based on two people sharing an inland room, subject to availability, golf tee times must be pre booked.
For further information or to book please call 01548 560382 or email reception@thurlestone.co.uk
Luxury Spa Break
Spa package available from the 1st November 2021 – 28th February 2022,
(excludes the festive period
22nd December 2021 – 17th January 2022)
Enjoy two nights in a
sea view room
Prosecco and chocolates on arrival
55 minute treatment each in the Voyage Spa
Voyage Spa goody bag
Dinner in the Trevilder restaurant or the Village Inn each night
A Thurlestone cream tea per person on the day of your choice
From £780 based on two people
sharing a classic sea view room
To book please call
01548 560382 or email
reception@thurlestone.co.uk
View Offer
Salcombe Gin School Staycation
Enjoy a one night stay at Thurlestone Hotel & Spa, a luxury hotel and spa situated on the gorgeous South Devon coast and a Gin School lesson for two at Salcombe Gin's outstanding distilling laboratory for adults. . Whether you're looking for total relaxation or a taste of adventure, Thurlestone Hotel offers an idyllic retreat. Their beautifully appointed sea view and luxury rooms are perfect for seaside breaks, while guests also love their excellent food, spa and leisure facilities.
Relax at this idyllic retreat which is just a short taxi ride away from our distillery and enjoy a Gin School lesson for two to share, where you will take charge of a beautiful mini copper pot still to develop and distil your very own 70cl bottle of gin.
Christmas Breaks
23RD - 27TH DECEMBER 2021 WEDNESDAY ARRIVAL AND SUNDAY DEPARTURE.
23RD DECEMBER
Enjoy a Devon Cream Tea on arrival, Christmas carols and welcome drinks followed by Table d'hote Dinner, with musical entertainment.
24TH DECEMBER
Enjoy a coastal walk along the South West Coast path, Afternoon tea in the lounge , Table d'hote Dinner followed by musical entertainment.
25TH DECEMBER
Santa drops in to meet the children and hand out surprises, Thurlestone Christmas Lunch. Quizzes, competitions and Christmas Tea, TRADITIONAL GALA CHRISTMAS DINNER, followed by relaxing music
26TH DECEMBER
Golf competition- Shot Gun start on our par 3, Table d'hote Dinner followed by entertainment from
South Hams Jazz band
27TH DECEMBER
after breakfast it is time to say Goodbye unless we can tempt you to stay on another night or two? (See our special "twixmas" terms).
*If you would prefer a traditional Christmas Day lunch in the Trevilder Restaurant please advise reception who will be happy to reserve a table for you.
Please note that the above programme is subject to change
To book or to find out more, please call our reservations team on 01548 560382.
Twixmas Breaks
Come and relax after all the Christmas festivities, blow away the cobwebs, take advantage of all our Sports facilities or spoil yourself in the Voyage Spa.
27TH TO 30TH DECEMBER 2020 SUNDAY ARRIVAL AND WEDNESDAY DEPARTURE
27TH DECEMBER
Cocktail party hosted by the Grose family and management.
28TH DECEMBER
Entertainment from Gary Jones the magician in the lounge.
29TH DECEMBER
Musical entertainment f in the Terrace Bar.
To book or to find out more, please call our reservations team on 01548 560382.
Please note that the above programme is subject to change.
From £790.50 per person for 3 nights.
New Years Eve Breaks
30TH DECEMBER 2021 TO 3RD JANUARY 2022 THURSDAY ARRIVAL AND MONDAY DEPARTURE
THURSDAY 30TH DECEMBER
Devonshire Cream Tea Caricaturist artist for your entertainment, Champagne Cocktail Party hosted by the Grose Family and management, followed by Table d'hote Dinner South Hams Jazz entertains.
FRIDAY 31ST DECEMBER
Join us for a coastal path walk with mulled wine and mince pies on
return. Golf Competition – Shot Gun Start on our par 3 course Children's Club entertainment for
our younger guests.
GRAND GALA NEW YEAR DINNER
Highland Piper, followed bydancing in the Yarmer Suite and entertainment.It is anticipated that gentlemen will wear dinner or Lounge suites this evening.
SATURDAY 1ST JANUARY
For those who enjoy a flutteran optional excursion to Exeter Race Course.
*Pre book your place at the races see our Special early bird offer. For those wishing to remain in the hotel an optional lunch is availableGary Jones, Magician entertains in the loungeTable d'hote Dinner followed Pianist.
SUNDAY 2ND JANUARY
Competition prize-giving followed by Table d'hote Dinner, Musical entertainment with Pianist


WHY NOT STAY AN EXTRA NIGHT ?
ADD THE NIGHT OF 2ND JANUARY FOR JUST AN EXTRA £75.00 PER PERSON INCLUDES DINNER, BED AND BREAKFAST
Double room for single occupancy will be charged 50% single supplement



Please note that the above programme is subject to change.
To book or to find out more, please call our reservations team on 01548 560382.
125th Anniversary Afternoon Tea
Sandwiches
Oak smoked salmon, Cream cheese, cucumber
Ham, tomato, mayonnaise
Smoked chicken Caesar roll
Barbers mature cheddar, red onion marmalade
Mini honey and mustard sausage roll
Scones
Freshly Baked Fruit and Plain Scones with
West Country Clotted Cream, Strawberry Preserve,
Cakes
Gateaux opera,Toffee Bundt cake
Upside down pineapple cake,Classic lemon drizzle
served with your choice of Taylor and Moor Tea or Coffee
Why not add a glass of Gremillet Champagne?
£10 per glass.

Pre booking is essential please call 01548 560382 , served in the lounge daily from 2.00pm - 5.00pm
Thurlestone Cream Tea
Your choice of Taylor and Moor Tea or Coffee, served with Freshly Baked Fruit or
Plain Scones, Strawberry Preserve and West Country Clotted Cream.
Booking is essential please call 01548 560382

Served in the lounge daily from 2.00pm - 5.00pm
Terrace Bar Lunches
Lunch is served from 12:30pm till 2:00pm and we offer a selection of daily Chef's Specials along side the Terrace lunch menu. A selection of sandwiches are served throughout the afternoon.
(Closed Christmas Day and Boxing Day)
Pre booking is essential please call 01548 560382
More Info
Saturday 20th November
Murder Mystery Evening
Join us for a delicious three course dinner while trying to deduce who committed murder at
Thurlestone Hotel in 1896.
To book please call 01548 560382 or email reception@thurlestone.co.uk
View Offer
Thursday 25th November 5pm - 8pm
Christmas Shopping Evening
Join us for an evening of Christmas Shopping with our 30 local artisans attending.
5pm - 8pm on Thursday 25th November
Free to attend
View Offer
Christmas Wreath Making Workshop
9th December
Wreath Making Lunch
Come and join us for a Christmas Wreath workshop to include festive two course lunch and a glass of bubbles.
£30 per person for lunch and workshop.
To book please call 01548 560382
View Offer
Saturday 25th December
Christmas Day Lunch
Sit back and relax and let us look after you this Christmas.
Enjoy a traditional Christmas Lunch in the beautiful surroundings of the Trevilder restaurant.
To book please call 01548 560382 or email reception@thurlestone.co.uk