Dog friendly beaches in the South Hams
Dog friendly beaches in the South Hams
The South Hams coastline is lined with an array of vast sandy beaches and pebbled coves. All are perfect for a relaxing day, or as a starting point for exploring the South West Coast Path. You will find many of the larger beaches have amenities, along with a quaint village inn or beach café; but off the beaten track there are many secluded natural coves, offering you just sun, sea and sand (or pebbles).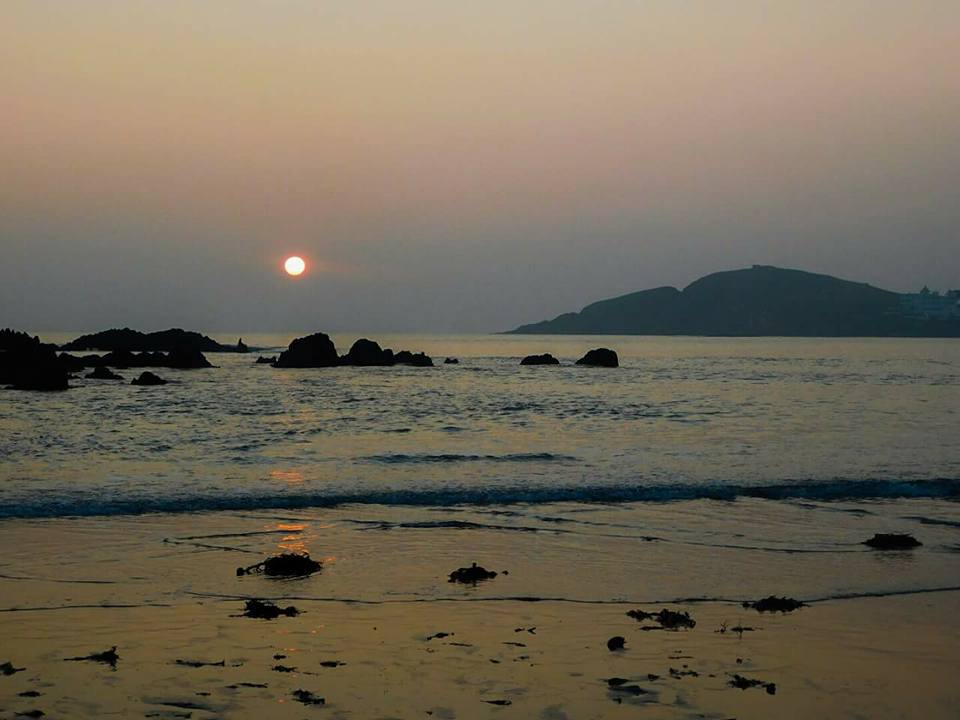 BANTHAM BEACH (1 mile by car)
Bantham boasts a vast beach of very fine sand and has lots of rock pools for exploring. The beach is known as the "locals" beach, which nestles at the mouth of the River Avon. Ideal for all the family with a large car park (charged), easy access, Gastro Bus, local pub and small shop, along with lifeguard cover (April – October).
Bantham is popular all year round for surfing and kite flying, along with kayaking on the River Avon. Surfing lessons and equipment hire are available from friendly local experts too; try www.banthamsurfingacademy.co.uk.
Please visit www.banthamdevon.co.uk for the latest surfing information.
Additional Information: No dogs allowed between 1st May to 30th September on the main beach, though dogs are welcome all year north of Hams End (north of a visual line between Hams End and Burgh Island Hotel, River Beach). From Bantham you can catch the passenger ferry across the River Avon, enabling you to walk to Bigbury along the coastal path. The ferry operates mid-April – mid-September, 10am – 11am and 3pm – 4pm (no service on a Sunday).

BIGBURY ON SEA (8 miles)
Well known for its spectacular views and sea tractor (operates at high tide only); this provides access at high tide to Burgh Island, home to the Art Deco hotel, which has been used in the filming of Agatha Christie's "Poirot". The long beach is perfect for families with its fine sand and shallow water for paddling and rock pooling. Amenities also include water sports tuition and equipment hire, along with the Venus Beach café; offering snacks all produced with local produce. Blue flag award 2016.
Rules & Further Information: No dogs allowed between 1st May to 30th September from the causeway east to Sedgewell Cove. To the west of the causeway and at the far eastof Sedgewell Cove, dogs are welcome all year.
THURLESTONE and SOUTH MILTON SANDS
(2 miles by car to the 'Rock' end of the beach)
A beach with fine shingle and sand. There are good amenities including the Gastro Bus at Thurlestone (seasonal) and the BeachHouse at South Milton (open all year), and it is a great location for wind surfing and for exploring the rock pools at low tide. The beach is owned by the National Trust and is very well maintained like many of the beaches in the areas. Wind Surfing hire and tuition are available. The area of water inside the Thurlestone Rock makes a safe spot to learn, with gentle onshore winds for most of the summer.
Rules & Further Information: Dogs are welcome all year.
Other small beaches along the Thurlestone coastline (10 – 15 minute walk from the hotel):
BROADSANDS is a pleasant bathing beach, with good rock pooling at low tide.
YARMER is a small sandy beach, directly below the golf course.

LEASFOOT is a sheltered sandy beach, backed by sand dunes. A quiet traditional beach, ideal for a lazy day, beach games and rock pooling.
Please note there are no amenities on these smaller beaches. Dogs are welcome all year.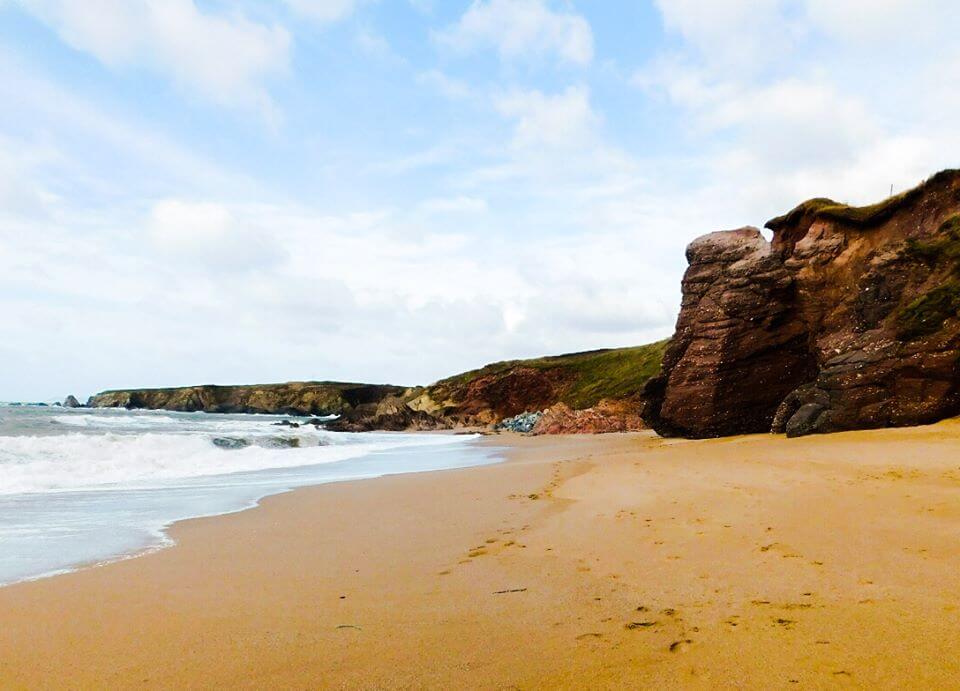 HOPE COVE (7 miles)
A delightful village, nestled within a green valley, with two sheltered beaches. Inner and Outer Hope are both sheltered sandy beaches with good access. The village has amenities along with a pub, shop and cafe. Dogs are welcome all year at Hope Cove but on leads. At Mouthwell Beach no dogs allowed from 1st May to 30th September.
SOAR MILL COVE (7 miles)
A small sandy cove, sheltered by the cliffs and rocks. Once you are parked access is via a lane and fields so may not be suitable for all. Dogs are welcome all year.
SOUTH SANDS (8 miles)
A stretch of golden sand situated in the sheltered Salcombe estuary. Water sports tuition and hire are available here, along with various amenities. No dogs allowed between 1st May to 30th September.
From South Sands you can also take the ferry to Salcombe www.southsandsferry.co.uk
NORTH SANDS (8 miles)
Very similar to South Sands, with easy access and amenities, plus views of the Salcombe estuary. Dogs are welcome all year.
EAST PORTLEMOUTH (12 miles)
This beach lies opposite Salcombe, from where a passenger ferry can be caught to gain access to the sandy beaches of Sunny Cove and Mill Bay. Mill Bay is the largest, and most popular with good amenities. The Venus Café is a popular stop before heading up to, and along the South West Coast Path. There is limited parking and the lane to Mill Bay is narrow with few passing places. Dogs welcome all year.
GARA ROCK (13 miles)
A large and unspoilt sandy beach, once parked access is over the fields and coastal
path and down the cliff path – access may not be suitable for all. Dogs are welcome all year.
EAST PRAWLE (12 miles)
Another small village, and an ideal base for a coastal walk. The coastline is rugged, with many secluded coves making it the ideal place for rock pooling. Prawle Point is a haven for bird watching, along with the NCI look-out which is manned by volunteers. The village itself has a pub and small shop/café, parking is available, but the beaches are more difficult to access (1 mile steep walk), but well worth the effort especially if you prefer solitude.
Jagged cliffs hide Elender Cove and Maceley beach, but fine sand and rock pools await you after the steep path. Horseley Cove is a 1 mile steep walk from the nearest parking, the beach is a mix of sand and shingle, and excellent for rock pooling. There are no facilities on the beaches. Dogs are welcome all year.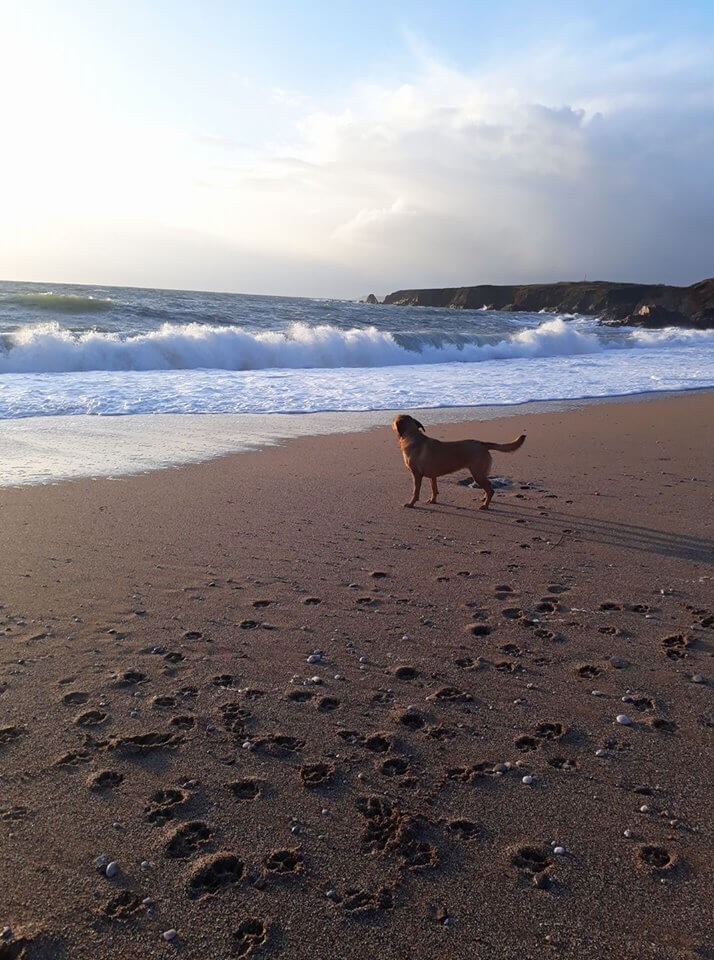 LANNACOMBE (12 miles)
This small beach is reached by a narrow lane and has only limited parking (often jammed up in the summer holidays). However, well worth a look during the quieter months because the beach is of fine pale sand with interesting rock pools. Dogs welcome all year.

START POINT (13 miles)
Beautifully rugged location, home to the automated lighthouse set on top the cliffs. Tours can be arranged. Mattiscombe Beach is a mile from here, but is a steep walk. The sandy beach offers you magnificent views of the coastline. Dogs are welcome all year.
HALLSANDS (13 miles)
An old fishing village,destroyed in the storms of 1917 after the shingle had been
dredged for the building of Plymouth Dockyards. Today there is a viewing platform to view the remains of the old village. The pebbled beach offers stunning views of Start Bay. There are no amenities.Dogs are welcome all year.
BEESANDS (12 miles)
Another old fishing village battered by the coastal storms, today though it has a large sea defence wall to offer protection to the remaining residents. Small fishing boats still depart daily from here, with their catch being offered for sale on the village green. Also quite a popular spot for recreational sea fishing locally. There is 2 miles of shingle beach with views to Start Point. The village has a small pub with amenities. Dogs are welcome all year.
TORCROSS (11 miles)
At the very start of SLAPTON SANDS, the two miles of pebbled shingle beach here offer stunning views. The beach was used in WWII as a practice area for the D-Day Landings. It is a good hunting ground for collectors of shells. Today you will notice a new stretch of road, which divides the beach and the fresh water lagoon of Slapton Ley. This is a National Nature Reserve; you will find an abundance of bird species and wildlife here. Visit www.
slnnr.org.uk for information on guided tours and courses.
The main village of Torcross has amenities including a large pub and tearooms, along with ample parking. Slapton is the inland village; you will find a public house here, which gives a fascinating insight into the WWII evacuations. The far end of the beach is known as STRETE GATE, which also has parking and amenities are available. Dogs are welcome all year.

BLACKPOOL SANDS (16 miles)
Located further along the coast, this beautiful crescent beach is of fine shingle. It's ideal for all the family, with easy access, parking and purpose built amenities. Tuition and hire are available for an array of water sports too, and the Venus Café offers an extensive menu of local produce.
www.blackpoolsands.co.uk
No dogs allowed from Easter Holidays to 31st October.
Did you know? Dogs are welcome on all our local bus routes if you are out and about exploring?If we can be of any further assistance during your stay then please ask at reception (01548 560382 01548 560382)01548 560382